Last Sunday we went to Malacca to attend the AGM of our holiday resort...The Merak Malacca Beach Resort...The owner's association...So after the meeting we went to play tourist at the old city of Malacca...As usual the old city fascinate Me and I believe any visitors would...The city of the past and the present, that saw the blend of the culture of the west and east, the influences of the old Chinese maritime power as well as that of the colonial era ..The river in the picture saw history and now it is a great sight for the tourists...I mingle with the tourist and enjoy playing one, there are so many things to browse over and after a while decide to go for a refreshments at a unique shop that is managed by some young Malaysian, who seem to love what they are doing...I love the way this small coffee shop were done, making it a great place to take a rest and enjoy the refreshments...We select a high table and order refreshments and sat there to enjoy just like the many tourists did...Enjoying life as it goes...Friends that is life...Enjoy...
Enjoying the refreshments....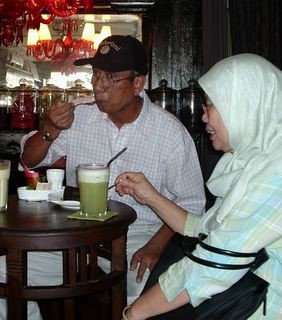 The Malacca river...